Hydronic Heating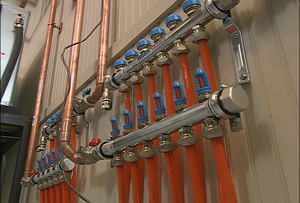 Chenier Mechanical has partnered with a leading Hydronic design and supply firm and can now offer in-floor heating and hydronic solutions for any application.  Hydronic Heating is a  passion for our supply partner and they have had the opportunity to work on hundreds of exciting and interesting wet heat projects over the past several years. In business  since 1967, our partner has worked closely with both their customer and manufacturer  base to find solutions to some very complex, and sometimes challenging applications. Their commitment to quality products and complete customer satisfaction  allows Chenier Mechanical to offer both efficient and cost effective solutions to any wet heat project. From boilers, to hot water tanks to instantaneous hot water  to in-floor heating, we have you covered on all levels. 
Our partner has been involved in everything from small, retro-fit applications, to some very large and exciting, once in a lifetime projects. The knowledge and experience they've gained through these opportunities has helped guide and shape their Hydronic Department. They  provide Chenier Mechanical with  full auto-cad Radiant and Hydronic designs on all projects that insure complete customer satisfaction and the highest level of both comfort and efficiency.
Chenier Mechanical has the answers. Call us today for a free estimate.